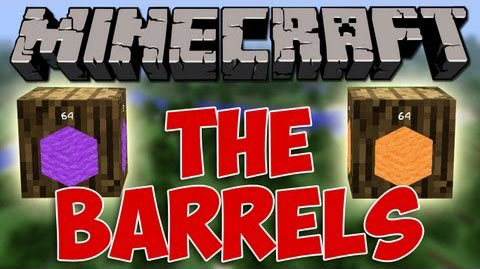 Description
Barrels Mod adds three blocks, all being similar to each other, store mass quantities of a certain item.
Barrels Mod Features:
This mod adds many features that make them easier to work with. Putting in items is as simple as right clicking a barrel with an item in your hand.
Getting annoying putting a stack of items in at a time? This mod fixes that by taking every item in your inventory into the barrel by double-right clicking the barrel!
Want to take items out? Left click the barrel! Make sure you're not in creative though. Just want to take one item out? Sneak while clicking the barrel! Try it out!
Is your Barrel getting a bit too clogged up and want an upgrade? With a higher tier barrel, double-right click the barrel to upgrade in it. Make sure you only have one barrel in your inventory because Barrels Mod basically swaps the barrel.
Want to use other mod like Build Craft or Red Power? Barrels Mod is compatible with those mods and will function normally with those mods. Put items in from the top and out from the bottom. So you can include barrels into your automatic sorting system!
Download here :
Barrels Mod 1.9/1.8.9/1.7.10
See more :
Minecraft 1.11 Mods
Command Blocks 1.11
Minecraft 1.11 Maps