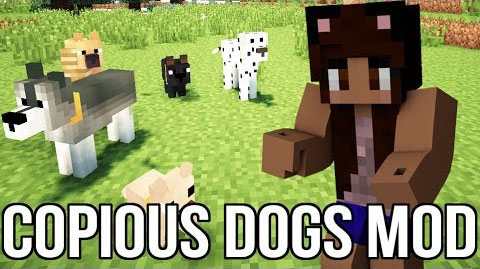 Description
Copious Dogs Mod brings you a variety of dog breeds. If you want to tame a furry dog companion, follow these steps:
Find a dog. Dogs spawn randomly throughout the world with certain kinds in certain bioms, such as huskies in snowy biomes and Bernese Mountain Dogs in mountain bioms.
Feed it a dog biscuit, it will be tamed.
Put a collar and leash on your dog, it will follow you like a minecraft wolf. Available breeds:beagles, Bernese mountain dogs, Chihuahuas, Dalmatians, French bulldogs, German shepherds, golden retrievers, great danes, huskies, Yorkshire terriers, St. Bernards, pugs, poodles, Pomeranians, Doberman pinchers, collies, Cardigan Welsh corgis, and boxers.
Mod Showcase:
Download here :
Copious Dogs Mod 1.7.10/1.7.2 by wolfpupKG52
See more :
Minecraft 1.11 Mods
Command Blocks 1.11
Minecraft 1.11 Maps