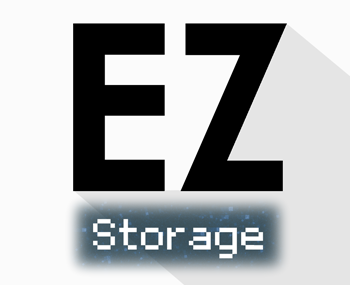 Description
EZStorage Mod proposes an early-game storage system that scales and develops as players progress. Now, putting 100.000 Cobblestone in 1 slot becomes easier. Blocks in the mod allows player to implement a search bar, a crafting grid, additional storage, and more. This mod also provides JEI integration for 1-click made from the system's inner stock as well.
Blocks:
Storage Core – This is the core of your storage system. Click on this block to open the GUI, and add adjacent blocks to expand. Each system can only have 1 Storage Core. This block can only be broken if it contains no items.
Storage Box – Tier 1 storage add-on. This increases the storage capacity of the Storage Core by a small amount.
Condensed Storage Box – Tier 2 storage add-on.
Hyper Storage Box – Tier 3 storage add-on
Input Port – Items can by automatically be put into the storage system by piping them into any side of this block
Output Port – Quickly extracts all items from the system into the block above the Output Port
Crafting Box – This adds a crafting grid to the GUI of your Storage Core (compatible with JEI + clicking for easy crafting from the internal inventory)
Search Box – This adds a search bar to the GUI of your Storage Core
Download here :
EZStorage Mod 1.10.2/1.9.4/1.8.9/1.7.10
See more :
Minecraft 1.11 Mods
Command Blocks 1.11
Minecraft 1.11 Maps