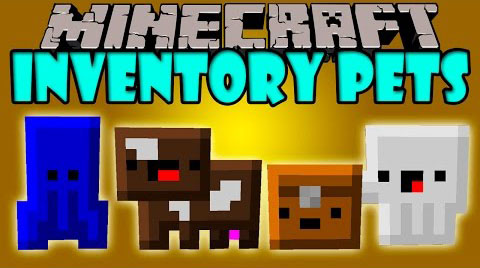 Description
Inventory Pets Mod is an ONLY CLIENT-SIDE mod. It is a source of many living animated creatures existing in your inventory. It also has amazing special effects, drops, buffs, utilities, defenses, and weapons in exchange for care and feeding. At very first release, you will see 32 wonderful, unique pets with mind-bending skills and fancy tricks. Some pets, such as the Purplicous Cow, are especially attractive. Each pet has its certain favorable foods, you should keep a small stack of this food anywhere in your inventory then pets may will find it. Nom! Pets' diet is different, some eat 1-2 times per Minecraft day, others eat after a certain number of uses. Inventory Pets own unique and powerful abilities that become active when they are in your inventory hotbar. But these abilities will fail if being taken out of hotbar or being hungry! Don't be a bad owner. Almost all effects continue to work in Creative Mode despite the hunger of Pets.
There are 2 ways to obtain Inventory Pets :
All pets, except for Legendary, are created based on vanilla Minecraft materials. With rarer and more powerful pets, they will need more high-qualified materials.
In the Overworld, there are 4 special places for pets: Sea Caves, Cloud Dungeons, Treetops, and underground Dungeons.
Download
Inventory Pets Mod 1.8.9/1.8/1.7.10