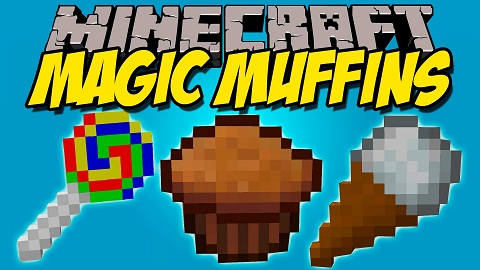 Description
Magic Muffins Mod enables player to pour a potion onto a muffin and make it into a Magic Muffin owning the exact same effect as the potion poured onto it, being stacked to 4 and filling up your hunger bar a bit due to some nutritional value. This mod contains vital functions listed below to be attactive:
Drinkable potions: poured onto muffins to make them magical, including the bad-effect ones. Splash Potions cannot be made into Magic Muffins.

Be able to make Lollipops, Popsicles, and Icecream Cones and pour potions onto these items to make them magical, but not very nourishing.

Each of the new food items can be stacked to 16, once you pour a potion onto them they can only be stacked to 4

Muffins and Icecream Cones also have chocolate variants
Recipes:
Download here :
Magic Muffins Mod 1.8.9
See more :
Minecraft 1.11 Mods
Command Blocks 1.11
Minecraft 1.11 Maps