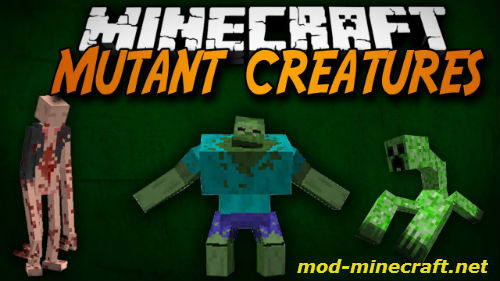 Description
As the name suggested, The Mutant Creatures Mod's objective is to add the whole new mutated mobs that spawns from the Minecraft's original mobs. The manner of mutated mobs is actually interesting, it appears with both physical and special ability which make it become stronger and powerful attacks.
One prominent mutated creature you are surely interested in much is mutant enderman. We call this creature "prominent mutated creature" because it comes with a wide range of characteristic for players to take its advantage. Mutant enderman has such 100 hearts and massive arms that it becomes seven life- threatening attacks. Moreover, enderman has ability to teleport and initiate a clone attack as well.
One other neat feature is that you can hatch mutant creepers to become your minions which will support you in the attacks. However, it's important to bear in mind that once you are too close, they will harm you or explode. So you should be careful when using their power. To spawn mutated creatures, it involves some ingredients such as Gunpowder, Spice, and everything nice. And there are also new potion and Chemical X for this process. So once you've installed this mod, you will pretty never want to stop using it.
Download
Mutant Creatures Mod 1.7.10/1.7.2/1.6.4