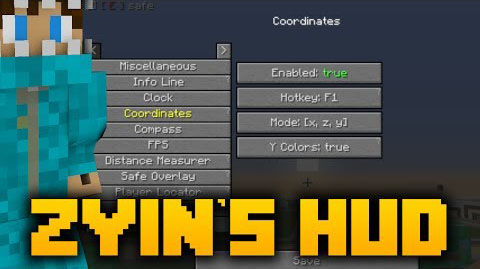 Description
Zyin's HUD Mod is a mod which adds various utilities and enhancements to make your life easier. Designed with the advanced Minecrafter in mind. It adds your coordinates, a compass, a clock, calculates distances, shows nearby players, shows unsafe areas, shows potion durations, quick deposit, eating aid, ender pearl aid, potion aid, torch aid, weapon swapper, an fps counter, displays animal info, item selector, health monitor, and dynamically displays your equipment?s durability. Any one of these features can be disabled. It works in both single player and multiplayer servers.
Screenshots:
Enhanced middle click
Improves the default middle click (select block) functionality by selecting the mouseovered block if it exists in your inventory instead of just on your hotbar.
Download
Zyin's HUD Mod 1.8.8/1.8/1.7.10