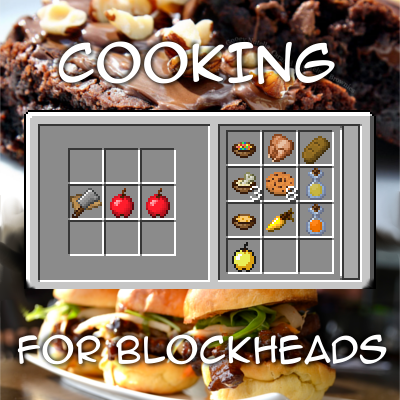 Description
Cooking For Blockheads Mod generates a cooking book in Minecraft to present recipes that user can create the things they carry in their stock recently. Additionally, It reveals an optional upgraded variant of the book that enable users to make the foods right away by simply clicking on the recipes. It was made with Pam's Harvestcraft (and all the other mods that add lots of new food) in mind, as it can get quite overwhelming if you're taken up to become a kitchen master.
Features:
Recipe book to show all food items you can craft or smelt with the things you have in your inventory.
Upgraded recipe book (crafting book) that can also craft the food items with the things from your inventory.
Sorting options to see the most nutritious foods you can make.
Supports Pam's Harvestcraft: Pam's tools will always be considered as available and the weird 1+1=2 recipes won't show up.
Download here :
Cooking for Blockheads Mod 1.10.2/1.9.4/1.7.10
See more :
Minecraft 1.11 Mods
Command Blocks 1.11
Minecraft 1.11 Maps