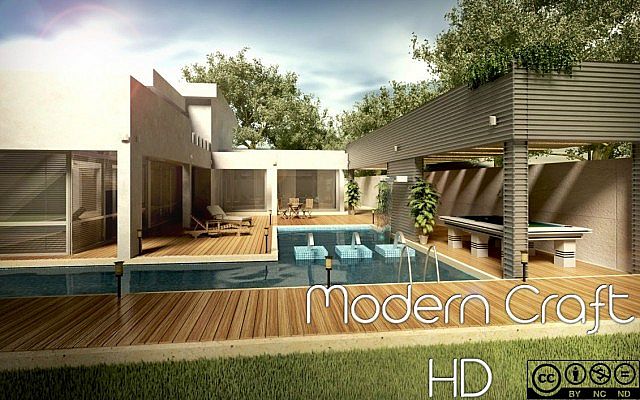 Description
As the name might suggest, Modern Craft Resource Pack is a useful resource pack for giving your Minecraft world that modern look and feel which some players seek. Granted, it isn't as great as some resource packs with much higher resolutions and more detailed textures, but its smaller size and resolution of 32x allow practically any Minecraft player to use Modern Craft resource pack without having to worry about a drop in FPS and playability. It's also more or less up to date and it works with Minecraft 1.9, the latest version of the game. There are other modern style packs which will just crash out over this, so it's worth mentioning.
The level of detail attained with textures which are only marginally better than Minecraft's traditional ones is astounding here. Grass looks so real you could almost feel it under your feet as you walk over it, wooden blocks, tables, stairs and other items look like they've been cut up, sanded and properly cured. There's such an amazing level of attention paid to detail in Modern Craft resource pack that in the eyes of some players, it even looks better than those bigger, bulkier HD packs. With the right shader and a mod or two, Modern Craft could be the perfect resource pack for anyone.
The little details are what makeup anything, and Modern Craft resource pack pays attention to the little details. Sand blocks look like cubic stacks of grains that might fall through the cracks in your fingers if you really tried to pick them up. Water is crisp and clear, offering you a view right to the bottom of a pond, or lake, or river, and even parts of the ocean if the area is somewhat shallow. All in all, it's very nice and definitely worth a download.
Download here :
Modern Craft Resource Pack
See more :
Minecraft 1.11.2 Mods
Command Blocks 1.11.2
Minecraft 1.11 Maps